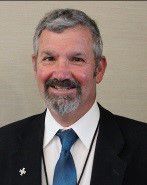 Everyone has seen the Christmas classic, "It's a Wonderful Life", the story about George Bailey and the difference his life had made to his community and his family. With that storyline in mind, What if there were no Knights of Columbus?

No Coats for Kids programs, no Ultra-sound machine donations, no Leave no Neighbor Behind program, Wheelchair Initiative, or Seminarian assistance through RSVP. I could go on and on. Because each year Knights of Columbus donate hundreds of millions of dollars to charitable programs and volunteer tens of millions of hours helping their neighbors and their communities. What if there were no Knights of Columbus?

The world, the countries that the Knights of Columbus touch, would be a much bleaker place. Countless millions of people would face more hardship and there would be much less joy and hope. Think about that—and that is just on a national and world level. Think about all the local communities right here in Oregon! Who would be building the wheelchair ramps for the disabled seniors? Who would be mowing the lawns and cleaning up the parish grounds? Who would be leading the Rosaries and the Eucharistic processions? Who would be helping out at all our parish communities with the thousands of everyday tasks that need to be done? Probably no one!

Don't think that could happen? Well it already is. A lot of Councils are struggling. Some have been inactive for a year or more. So, with inactive Councils, parishes, communities and individuals are facing more challenges. Because there are no longer any Knights of Columbus in their parish. Why? Several reasons, but mostly that the current group of Knights have gotten older. Some have died, some have grown ill and most no longer have the energy they had 10 years ago. It's inevitable. Also it is that the Councils that are struggling are the ones that have not done a good job of recruiting.

Why?

Why would you not want to ensure that the good that your Council has done for your parish will continue? Why would you not want the same joy that you found helping others, to be experienced by your younger parish neighbors. Why would you not want to see the impact that the Knights of Columbus bring to continue?

Because for many of us, talking to strangers and trying to recruit members is "out of our comfort zone". Granted, there are fewer people these days who want to give of themselves, to belong to an organization like the Knights of Columbus. So, it's more difficult to recruit. But that doesn't mean we shouldn't try. That doesn't mean there is no one out there that feels the same as you did when you joined.

We have to stretch ourselves, and invite our fellow Catholic men to join the Order. We have to make our programs and our Faith more visible, to make it more attractive to Catholic men, to let our works be a beacon that draws Catholic men to the Knights of Columbus. Finally, we have to continue to be the men that our priest rely upon to help them to run their parishes.
It says "Be Not Afraid" 365 times in the bible. We cannot be afraid to invite men to join us in our food drives and our fund-raisers, our free throw contests and our Council picnics. The devil discourages us, creates doubt in our minds and tells us we don't need to recruit, because he knows that the Knights of Columbus speak the message of the Gospel with their charitable acts. God says, "Be Not Afraid". Satan whispers, "Why Bother". Brothers, in the words of our new Supreme Knight, we are called to a Creative Courage. Get our message out. Go and preach the Gospel through our actions, and invite other men to join our ranks.

The Knights of Columbus make a huge difference in this world. Let's not give that up without a fight.
Vivat Jesus (Jesus Lives)
Ray Prom, State Deputy
Oregon Knights of Columbus